The Clientelism Detector, presented at the SAJ Discussion Club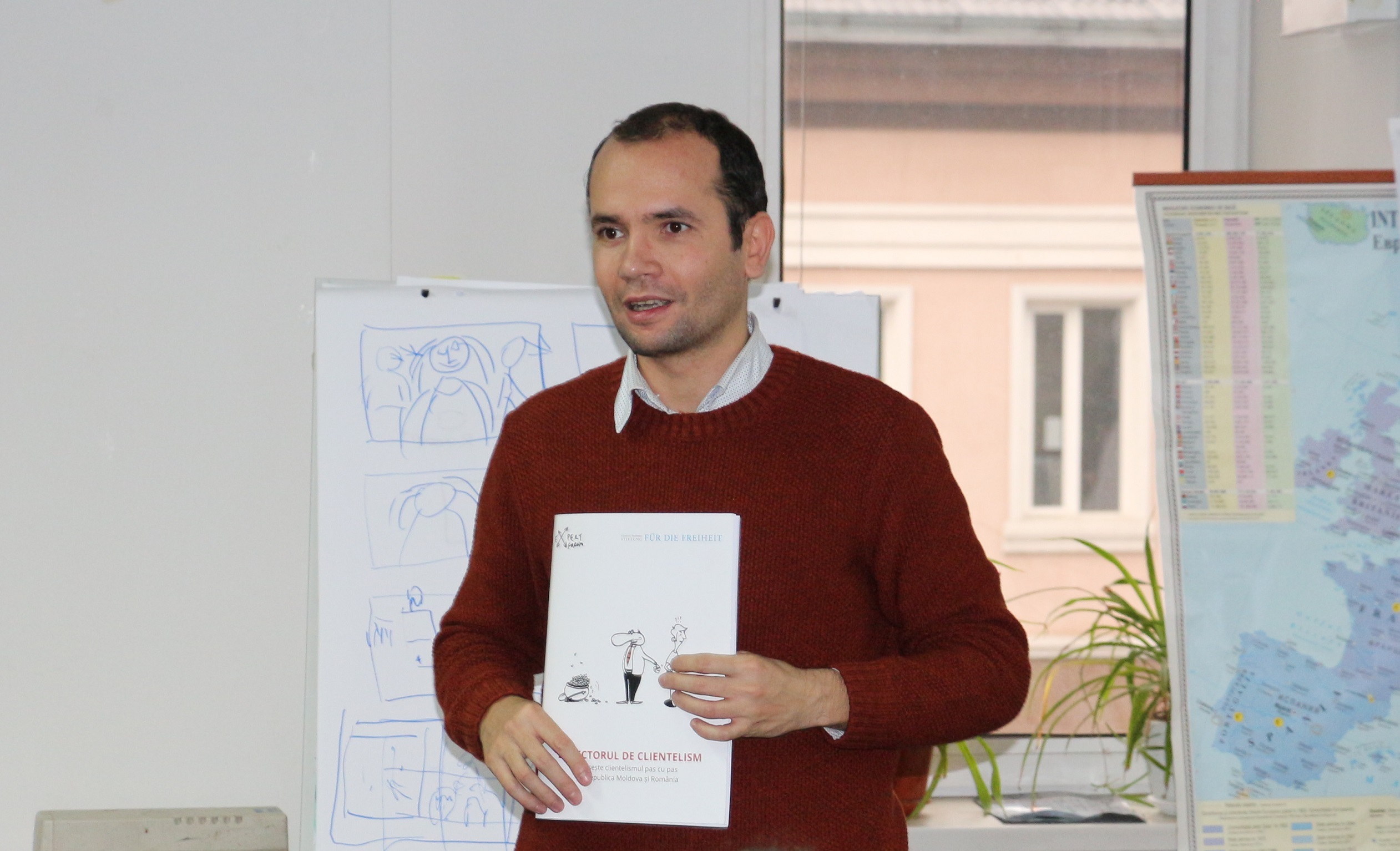 Political clientelism, theft of public funds, fraudulent ways that some politicians use to enrich overnight, illegal funding of political parties, and the tools citizens can use tot rack the money – are the themes debated at the third Discussion Club, organized this year at the SAJ. The special guest of the club was Septimius Pârvu, expert in good governance and electoral processes from Expert Forum, Romania (EFOR).
The discussions focused on the Clientelism Detection Guide, recently published by EFOR and presented in Chisinau. The publication is intended for civic activists, journalists and anyone who wants to understand and identify clientele mechanisms and the ways the public money is stolen. Septimius Pârvu presented to the SAJ students a series of concrete steps meant to help them discover and analyze the clientele behaviors step by step and made a comparison of the situation in the Republic of Moldova and Romania. "This is because the patterns of financial theft are often similar and the firms concerned are doing business in both countries". At the same time, the guest paid attention to the enormous costs and bad consequences of a poor governance – the lack of stable and clear rules and the dubious negotiation connected with the allocation of funds on arbitrary criteria.
The future journalists were interested in how systemic corruption can be eradicated and what the consequences of the struggle for sharing public resources are. The discussions ended with reiterating the crucial role of the media in spending transparency and accountability of state institutions to avoid the illicit prosperity of the parties and the people around them.
The guide was developed by the EFOR experts and published by the Regional Office in South Eastern Europe of The Friedrich Naumann Foundation for Freedom (Sofia, Bulgaria), with the financial support of the German Foreign Ministry, within the project "Development of cooperation with the civil society in the Eastern Partnership countries and Russia".