Public Policies and Harmful Law Drafts debated within the SAJ Discussion Club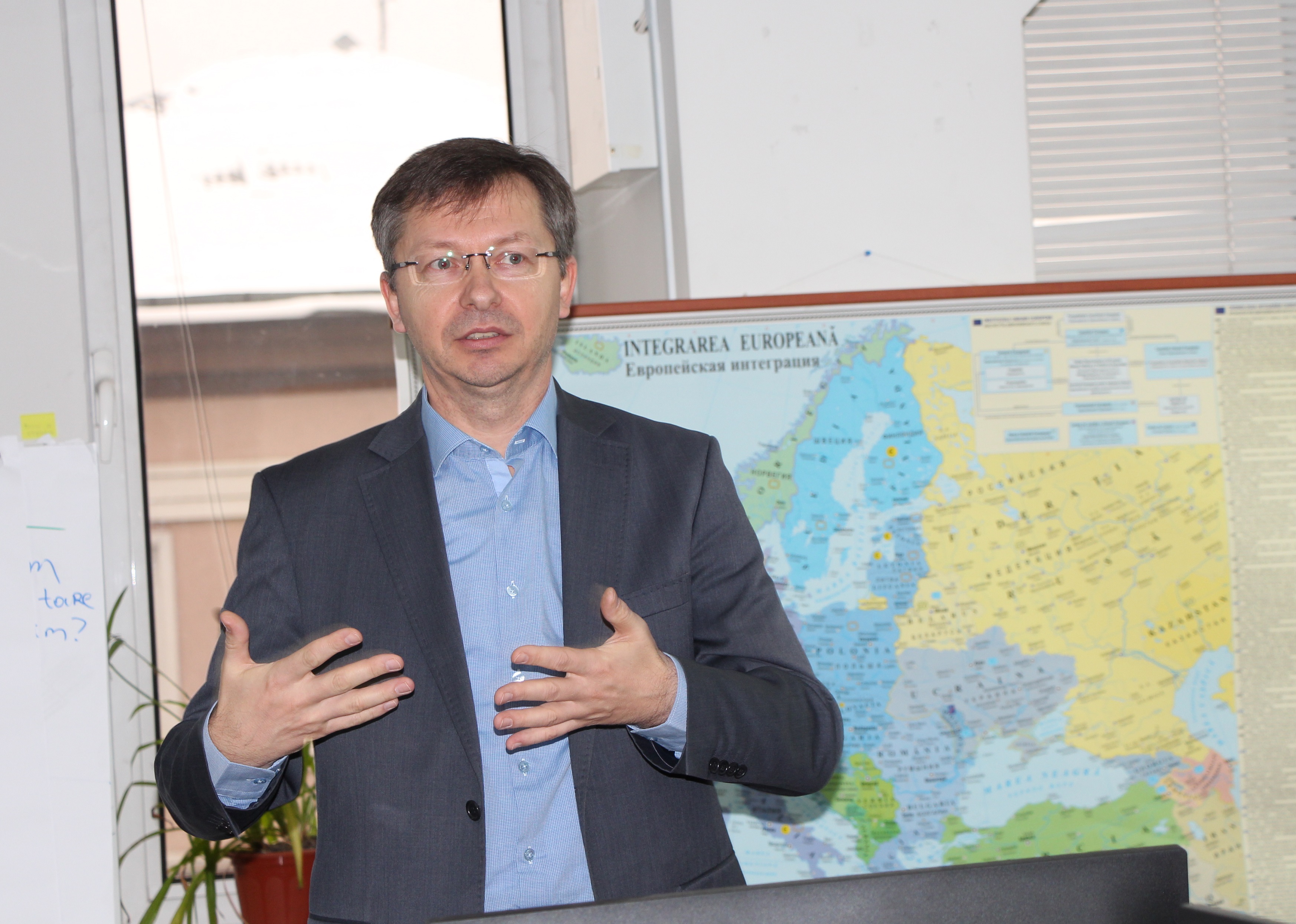 Vulnerability of the financial and banking sector, including the surprising resignation of the NBM Governor, the capital amnesty law, the program of citizenship of the Republic of Moldova through investments, the involvement of the government in money laundering schemes to ensure the political coverage of the persons involved in such frauds. These and other stringent problems of our country were the topics discussed at the Discussion Club, which took place on Wednesday, 21st of November, at the SAJ and whose guest was Mr. Veaceslav Negruţă, expert of "Transparency International Moldova".
The theme of this edition of the Club was "Responsible Public Policies vs. Harmful Law Drafts promoted by the Government". The former Minister of Finance talk to future journalists about the damaging effects of the Capital Amnesty Law, and as evidence brought forward the opinions expressed by the International Monetary Fund, the World Bank and other development partners. Equally harmful, according to the former Minister of Finance, is the Program providing citizenship through investment.
As Veaceslav Negruta says, this is either a way to bring the embezzled money from the Moldovan banking system back to the country, as long as those who are guilty of the theft of the billion have not yet been punished or a loophole for some people to solve the legal issues they have in the jurisdiction of origin. "The citizenship will not be given to people who run out of hard life, but rather to those who are looking for fiscal paradise. They will not have a close relationship with the Republic of Moldova", mentioned the expert.
Moreover, he was convinced that Chisinau authorities should not sell things that, de facto, do not belong to them – the attractiveness of the Moldovan passport. "Instead of focusing on bringing clean investments, generating added value and creating jobs, we are trying to sell the attractiveness of the Moldovan passport, with which we can join more than 120 countries, including those in the Schengen area. But the power of the Moldovan passport was offered by the EU through the liberalization of the visa regime and it does not belong to any Moldovan dignitary. In this context, I make reference to the anti-corruption report on this law draft, made by the National Anticorruption Center in 2016: … is against the interests of Moldovan citizens who, today, take advantage of the liberalization of the visa regime and pose a threat to the security of our country and to every citizen ...", stressed the "Transparency International Moldova" expert.
At the end of the discussion, the students addressed several questions concerning the applicability of the law in the Republic of Moldova, the details about the NBM Governor's withdrawal, the currency reserves up to and after the elections, the risks of the investment projects, and the contribution of the journalists in elucidating the cases of corruption and bank fraud.