SAJ students, full participants at the Media Forum 2018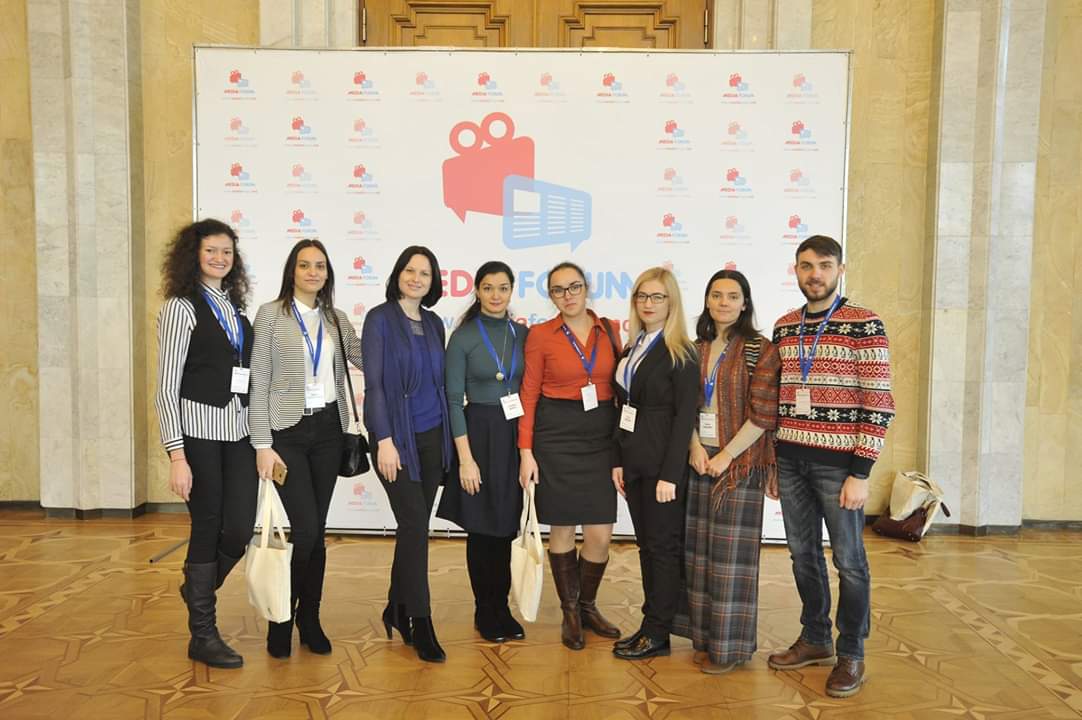 The condition of the journalist in the Republic of Moldova, the quality of the media products offered to the public, the access to information and the transparency of the public institutions, the way of improving media legislation – these are only a few of the topics discussed at the Media Forum 2018, with the participation of notable experts and journalists from abroad and from the country, but also the SAJ instructors and students.
For two days, about 200 participants – managers, reporters and editors from various local media institutions, as well as future journalists – entered into dialogue with famous foreign experts: Aistė Žilinskienė, President of the Internet Media Association of Lithuania; Arturas Morozovas, Co-founder of multimedia agency Nanook.lt (Lithuania); Urmo Soonvald, editor-in-chief of the daily Eesti Päevaleht and of Delfi News Portal (Estonia); Mykhailo Koltsov and Lennart Gerwers from DW Akademie (Germany); Dan Tăpălagă, Co-founder of the independent website G4Media.ro (Romania); Daniel Rzasa, Teaching Fellow, CEE, Google News Lab; Yevgenia Albats, investigative journalist, editor-in-chief of the Russian political weekly "The New Times" (Russia) and others. Thus, in the workshops supported by them, the SAJ students learned from the first source about the pressing problems in the media, as well as about the international trends in this field. Corina Seremet, for example, has many questions related to the future of journalism in the Republic of Moldova. "The fact that the Moldovan press remains politically controlled worries me, especially because the situation doesn't change", said Corina. Another student, Lucia Dăscălescu, is pleased to have been able to participate in the adoption of the Forum Resolution, thus contributing to the improvement of journalistic materials of public interest.
The Forum ended with rewarding the winners of two national competitions: "2018 Journalistic Investigations", supported by the Friedrich Naumann Foundation for Freedom (Germany) and "Click for Gender Equality" supported by UN Women in Moldova. Among the laureates of the two competitions are the SAJ graduates. Anatol Eşanu (2013-2014 school year), reporter at "Ziarul de Gardă", took the first prize for the investigation "Vânătorii de terenuri", in collaboration with Victor Moşneag, SAJ instructor. Natalia Sergheev (the same school year, 2013-2014), now a reporter at Radio Free Europe, is among the most sensitive media professionals in the country on topics related to gender equality.
The majority of the SAJ students who participated in the Forum mentioned that they are waiting for new events of such importance. The fourth edition of the forum took place on 29-30 November and was organized by the Press Council of the Republic of Moldova, the Independent Press Association (API), the Independent Journalism Center (IJC) and the Electronic Press Association (APEL).